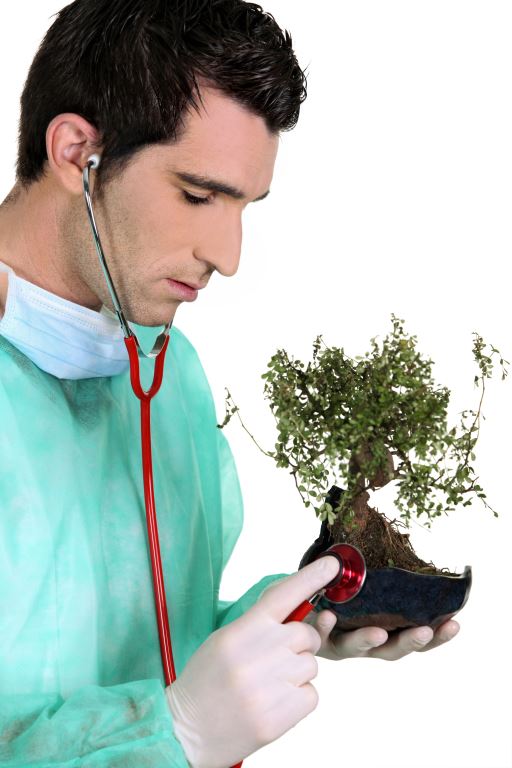 Annual Tree Care
Rx for HEALTHY TREES
STEP 1 and PREMIER PROGRAMS
What are the most important steps one can take for their trees & shrubs? Basic cultural practices will maximize tree health, including fertilizing, pruning, & insect/disease control. Our Step 1 and Premier programs combine essential ingredients of an effective tree & shrub care program.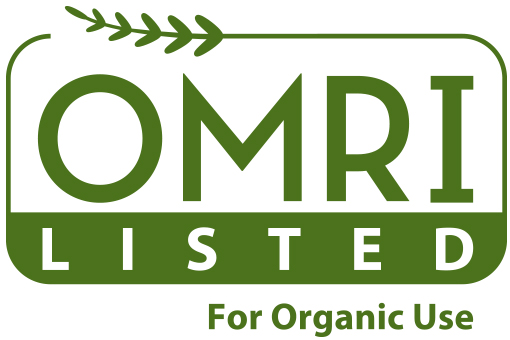 STEP 1 PROGRAM - BASIC TREE & SHRUB CARE
Step 1 includes three key elements of a tree & shrub program. FERTILIZATION promotes plant vigor and increases insect/disease tolerance. HORTICULTURAL OIL controls scale & other insect pests that have over-wintered on your landscape plants. Similar to highly diluted petroleum jelly, the material we use, Purespray, is listed by the Organic Materials Review Institute (OMRI) as meeting the U.S. National Organic Program standards. WINTER PROTECTION provides protection against "Winter-Burn" injury.
PREMIER PROGRAM - PREMIUM CARE & SAVINGS
Premier Tree & Shrub care includes the Step 1 components plus two additional Foliage Protection applications to reduce damage by aphids, mites, and other insects and provide general fungus protection. Premier level clients are also eligible for a 10% prepayment discount.
CUSTOM-TAILORED APPLICATIONS
Some tree species and certain types of shrubs are vulnerable to their own unique problems. We offer Custom-Tailored applications for these situations.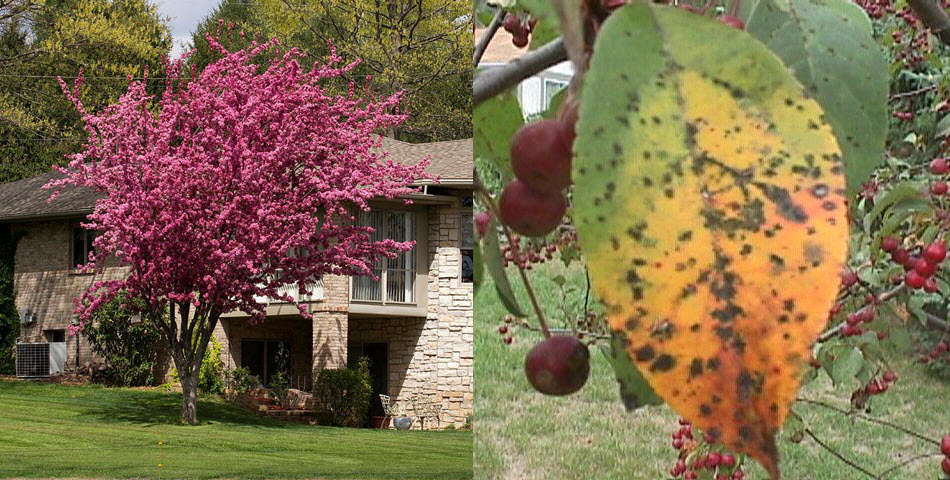 Crabapples, beautiful when in bloom, can soon become decimated by the apple scab fungus.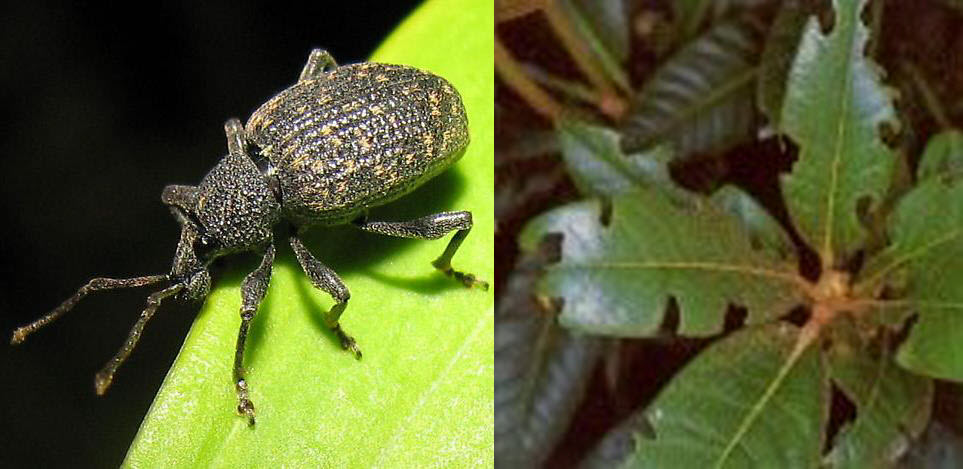 Feeding by the adult black vine weevil, left, leaves telltale notches at the edges of leaves.
CRABAPPLES - DOGWOODS - HAWTHORNS - SYCAMORES - PINES: Two FUNGICIDE applications reduce leaf-spotting and premature leaf or needle drop.
EVERGREEN SHRUBS: A BLACK VINE WEEVIL: application protects rhododendron, taxus, & other evergreens from this devastating root feeding insect.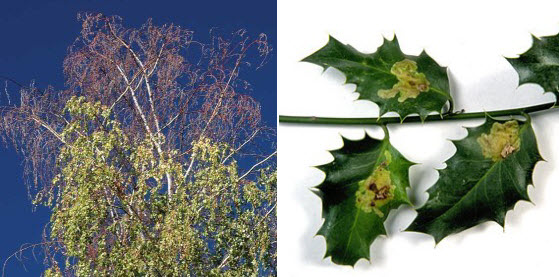 Top dieback, left, indicates the presence of bronze birch borer; the distinctive tunneling of the holly leafminer,right.
BIRCHES - HOLLIES: The BIRCH / HOLLY: Program includes 1-3 applications in spring & summer to protect against leafminer and the Bronze Birch Borer.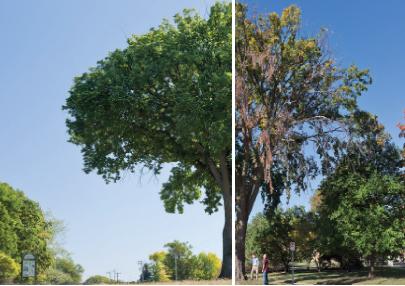 Early symptoms of Dutch Elm Disease include the yellowing or 'flagging' of upper limbs.
ELMS: A majestic elm tree is an irreplaceable element of the landscape. Don't lose your to the fatal Dutch elm disease. Elms can receive three years' protection from Dutch elm disease with a single, fungicide injection in summer.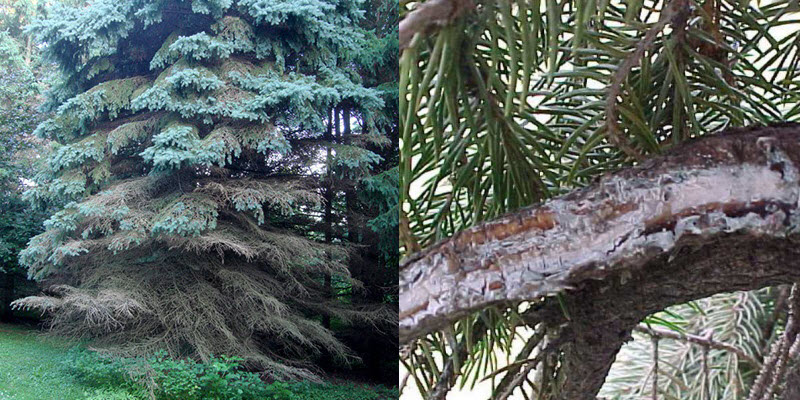 Blue Spruces exhibiting dieback of lower limbs with white resin buildup on these limbs are infected with Cytospora canker disease.
SPRUCES - PINES: A FUNGICIDE INJECTION controls Canker disease on Blue & Norway Spruces and Tip Blight on two-needled pines.
Our unique mosquito control program garners rave reviews! Don't let the fear of Zika or West Nile viruses force you inside. Join our many satisfied clients who enjoy less swatting and more of their yards each summer, all without any unpleasant odor, disruption of daily activities, or presenting a risk to children & pets. Click to link to our Mosquito Control recommendations sheet.
PEST ALERTS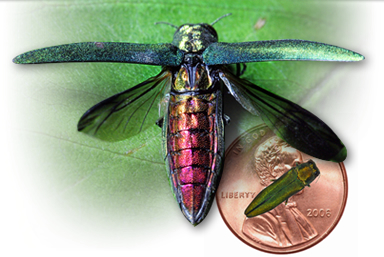 Although quite small, the metallic-green emerald ash borer adult is fatal to ash trees.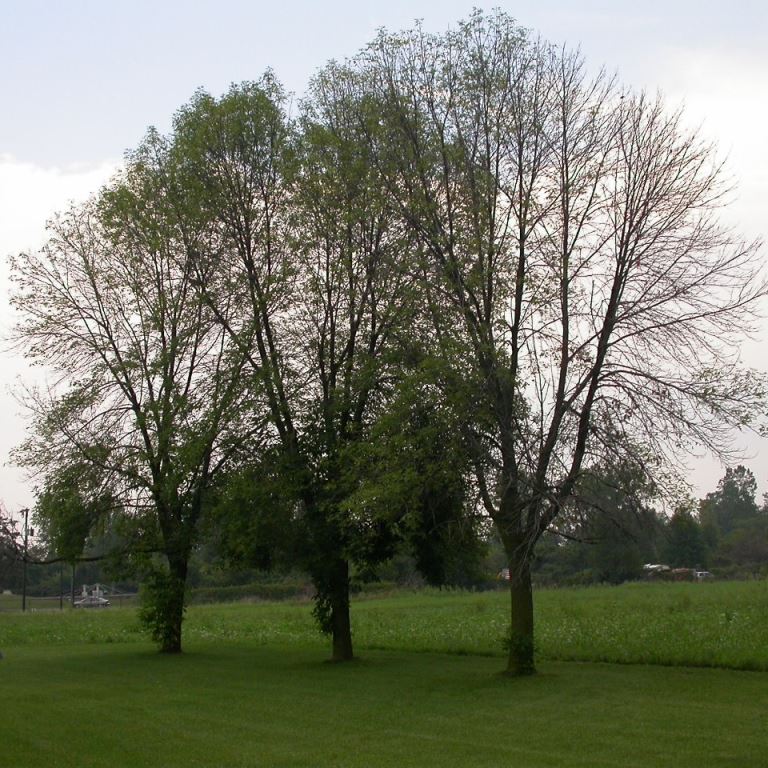 The Emerald Ash Borer insect can quickly devastate & kill all varieties and species of ash trees.
EMERALD ASH BORER
The Emerald Ash Borer (EAB) is now established in northeast Ohio & presents a real threat to the survival of our ash trees. Ash trees can be protected from EAB attack with a direct sapstream injection that provides very effective 2-year control.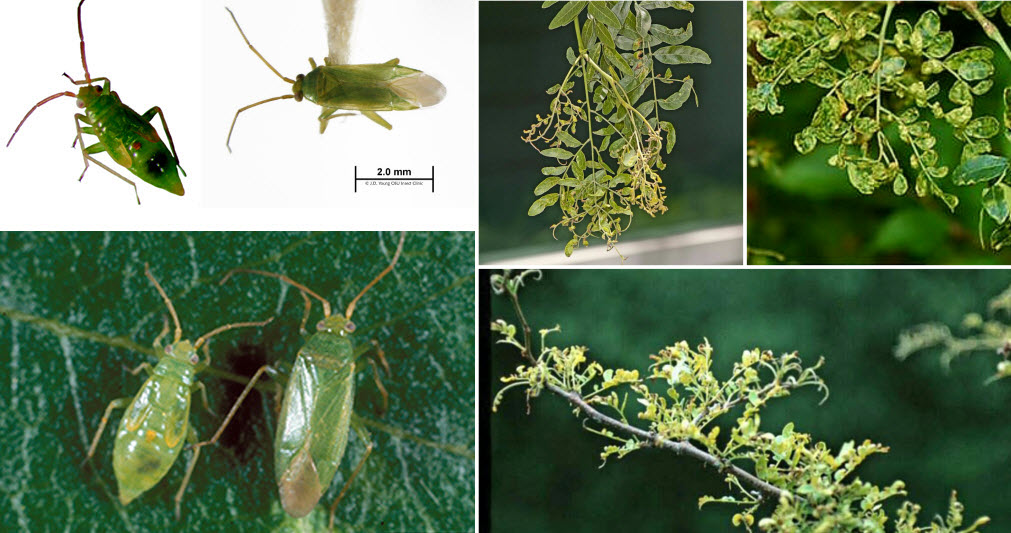 Both the honeylocust plant bug nymph (left) and adult (right) will feed on the foliage, resulting in the typical discoloration and disfigurement of the foliage shown here.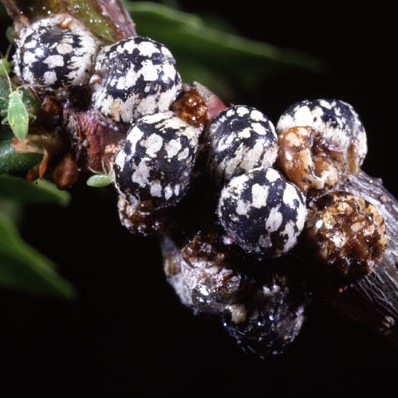 Clusters of immobile calico scales, attached to twigs and branches of infested trees. From these hatch thousands of crawlers that settle on leaves and feed on plant sap.
Light green plantbugs cause a twisting and distortion of the foliage and when populations are severe enough to cause damage they're easy to spot! Calico scales cause quite a bit of small branch dieback, stunted leaf formation, and a general blackening of the tree trunk. Honey Locust trees can be protected from both plantbugs & calico scale with annual direct sapstream or soil injection applications, providing season-long control.
CALL OR CONTACT US TODAY FOR YOUR TREE CONSULTATION! (440) 421-9589