Tree Pruning & Removal
TREE PRUNING: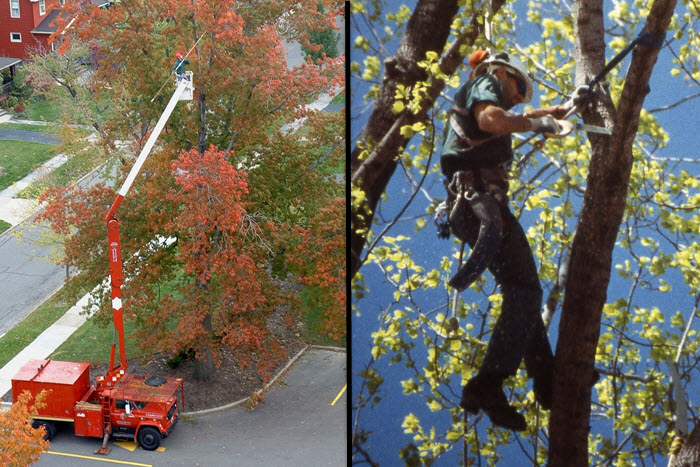 With over a century of experience, the expert tree doctors at Forest City Tree Protection know how best to prune your trees to keep them healthy, safe, and beautiful. Don't let just anyone with a chain saw touch your precious trees – trust them to the trained arborists at Forest City Tree Protection. Big tree and/or small, we have the personnel and equipment to get the job done properly. And, we promise to leave your yard neat & clean. Have one of our Certified Arborists inspect your trees and provide you with tree pruning recommendations.
TYPES OF PRUNING: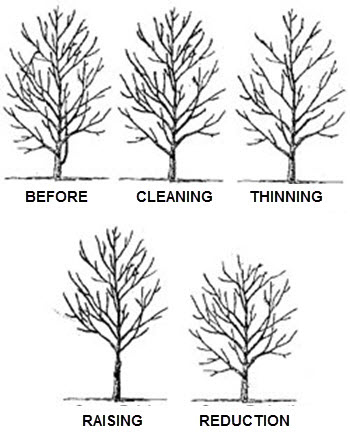 Clean: Selective pruning to remove one or more of the following parts: dead, diseased, and/or broken/hanging branches.
Thin: Selective pruning to reduce density of live branches, increasing sunlight and air penetration while reducing wind & snow loads.
Raise: Selective pruning to provide vertical clearance above drives, walkways, sidewalks, streets, lawns, homes, etc.
Reduce: Selective pruning to decrease height and/or spread, providing clearance from drives, walkways, sidewalks, streets, lawns, homes, etc. It can also reduce wind & snow loads and provide more sunshine to other plants, lawns, & gardens.
TREE REMOVAL: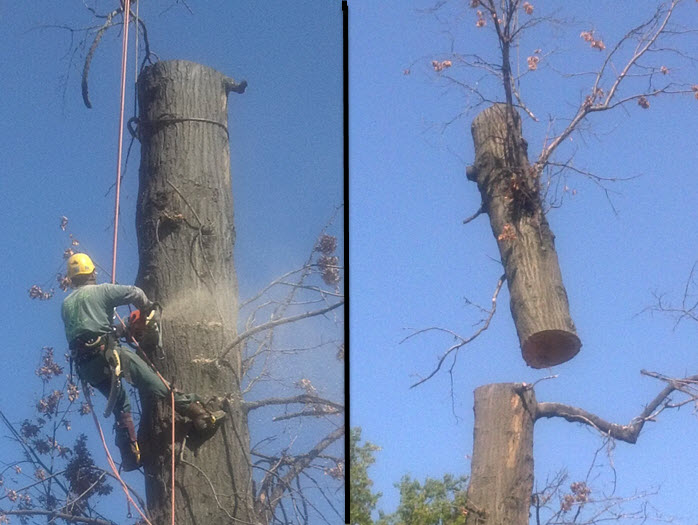 Forest City Tree Protection can not only remove unwanted or diseased trees, but if need be, determine whether they can be saved or restored. We may not even have to remove the entire tree, leaving a portion standing for wildlife habitat. We will let you know if other trees are at risk. Our dedicated crews will respect your property, use safe techniques, and clean-up leaving you with little or no mess. Simply request a tree removal estimate and one of our Certified Arborists will come out, inspect your tree(s) and provide you with a quote.
CABLING & BRACING: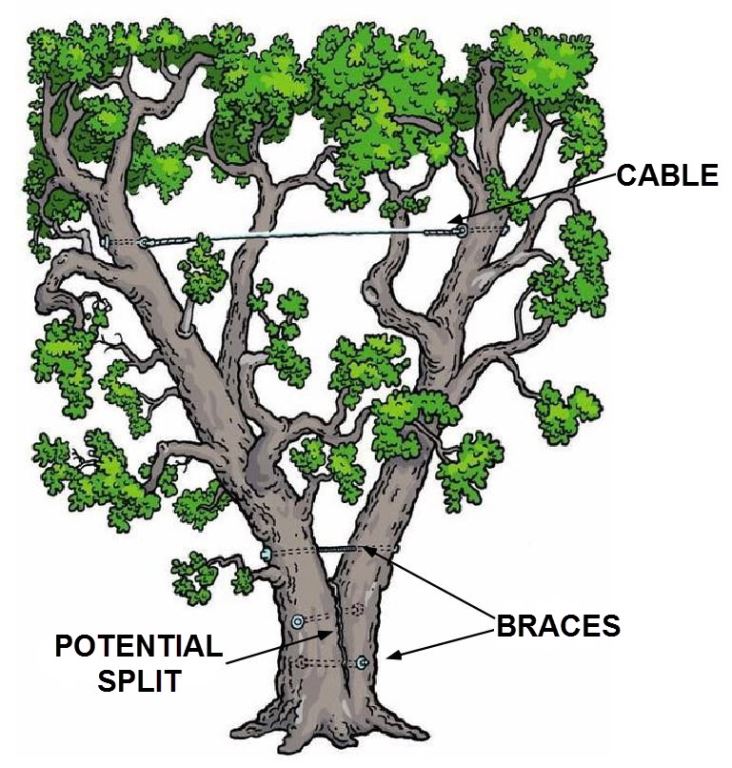 Tree support systems are used to provide supplemental support to leaders, individual branches and/or entire trees. Cables, braces, and guys all provide supplemental support by limiting the movement of the branches, leader, or entire trees. When a tree has a structural defect or condition that poses a high risk of failure, which may result in injury or property damage, a supplemental support system can often reduce this risk. Our Certified Arborists will carefully examine your trees for structural defects to determine if a cable and/or brace should be installed.
STUMP GRINDING: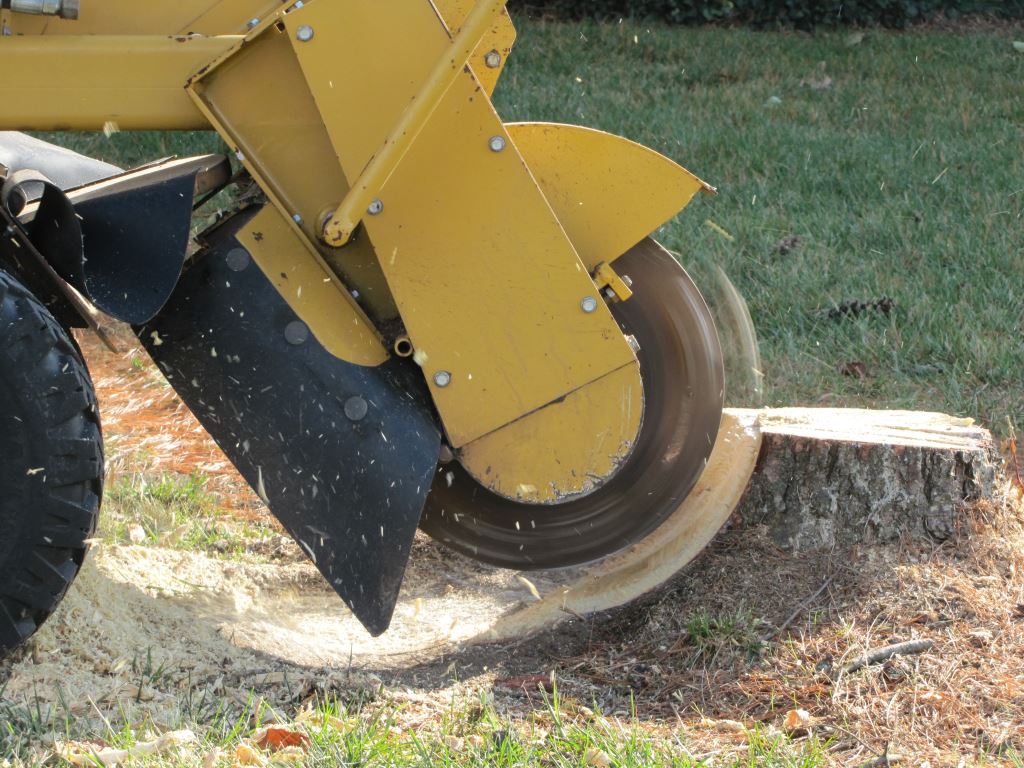 Whether you've removed a tree(s), are about to have a tree(s) removed, or have inherited stumps from a previous owner, Forest City Tree Protection can rid you of the nuisance. Front yard or back, we can get our self-propelled unit to just about any stump. Grindings are left on-site in the resultant hole(s). Cost is generally based upon the size of the stump (diameter at widest point) and accessibility.
OUR STANDARD OF PROFESSIONALISM

Clients deserve to know tree work will be done correctly and safely. Our tree pruning, removal & cabling/bracing conforms to the American National Standard (ANSI) for Tree Care Operations - Tree, Shrub & Other Woody Plant Maintenance, including Part 1-2008 (R2014) Pruning and Part 3-2013 Supplemental Support Systems. Our work follows the Best Management Practices for Pruning (2008) and Tree Support Systems (2014) from the International Society of Arboriculture and complies with the ANSI Standard for Arboricultural Operations - Safety Requirements (2012).
WINTER PRUNING SAVINGS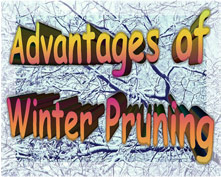 During our slower season we can schedule your work at convenient times and offer very good "Winter Rates". Our best, full-time arborists are available at this time of year, ensuring that your work will be done in the professional manner we have provided since 1910. Unsightly and hazardous branches can be removed before the landscape setting is at its peak of beauty in spring and summer, and before the lawn is in use. Flower beds or gardens under a tree are not harmed. READ MORE ABOUT THE REASONS FOR WINTER PRUNING..
FREE MULCH: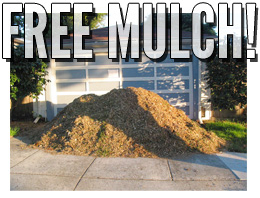 Forest City Tree is proud to participate in the Free Mulch App via AboutTrees.com. Research confirms that fresh wood chips have more available nutrients than older material that's already begun to be "recycled" by nature. Another benefit is that fresh mulch can be effective at inhibiting weeds. We are committed to making the world greener and this is one more step in that direction.  Follow this link to find out more and sign up for Free Mulch
CALL OR CONTACT US TODAY FOR YOUR TREE CONSULTATION! (440) 421-9589